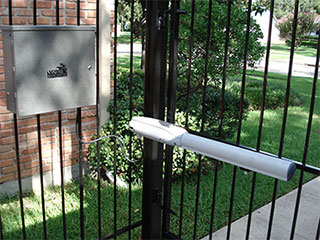 Give your gate a complete workover with a quality gate opener from Gate Repair Dallas. We stock the best quality brands such as FAAC, LiftMaster, Eagle Gates and Doorking. Our range of gate openers will have all your bases covered, regardless of the type of gate you have. Whether you have a single or double swing or sliding gate, we have expert solutions to ensure you get many years of life out of your opener. We are the Dallas-based gate opener experts to call when you want a bargain on a top-quality model. Or when you need opener repairs done fast and affordably.
Swing Gate Openers
Did you know that swinging gates are the most commonly installed types of gates? The main reason being - swing gate openers are among the most durable, economical and reliable types of openers available. There are a number of features available with a swing gate opener and they include remote controls to open and close the gates, an intercom so you can communicate with visitors before deciding whether or not you will allow them access to your property and photoelectric sensors that detect the presence of people, animals, cars and other things that may obstruct the gates from closing. While most swing gate openers open the gate inwards, you can have the gate open outwards if needed.
Sliding Gate Openers
The prevalent sliding gates are often installed for commercial use because the gates for these entrances are usually larger than regular residential gates. However, they are also useful to use with smaller gates where the entrance is on a sloped property. One of the benefits of a sliding gate opener is that the structure is pretty much out of sight when it is opened. However, it does require additional materials such as rollers and tracks for the gate to slide on. You can have a sliding gate opener for one relatively large construct, but it also works with a dual gate system as well.
Double Gate Openers
Many residential and business premises do perfectly well with a single gate opener working a single gate. However, a double gate opener is always an option to consider. A double gate opener consists of one motor that operates both gates at the same time, but you can also have separate motors and openers installed so you can open each gate independent of the other. The key benefit of double gate openers is that they can be installed for swinging and sliding gates. It all comes down to what works best for your property.
Best Experts On Gate Openers Near Dallas
Business or residential premises, we here at Gate Repair Dallas can show you a range of the best quality gate openers from industry leaders such as Eagle Gates, Doorking or LiftMaster. Keep your property safe and secure and only grant access to visitors you approve of. We send our experts to all areas close to Dallas, so if you need help with gate openers nearby, we can provide it. We specialize in gate opener repairs (same-day solutions) as well as opener installation. So any service you need, we can provide it at an affordable price, 7-days a week.
Our team can also take care of:

Phone Entry Systems

Doorking Gate Opener

Security Gate Repair

Ornamental Iron Gates