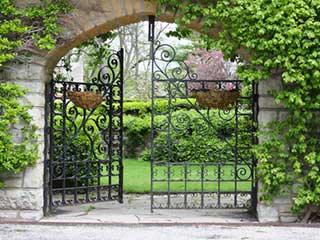 Repair for Residential Gate Openers
Without automation, even a small residential gate will be much less convenient to use and impossible to operate remotely. Our company is here to solve any problem you might have with your automatic residential gate opener and any of its parts. If you have a broken chain or moving gear, we will replace it quickly. We are experts in adjusting chain tension and the settings such as the closing force. Count on us to deal even with more complex issues affecting the motor and the circuit board. We work with great precision to restore the operation of these fundamental components. When repair is not possible, you can expect quick replacement of motors, circuit boards and essential accessories such as the safety sensors.
Restoring and Improving Residential Security Gates
Even the sturdiest gate can give in when it is constantly subjected to the forces of nature. Our job is to make it solid and reliable once again. Rely on us for rotten gate repair and for restoring greatly damaged steel and iron units too. In case of wood decay, we remove the damaged material and a small section of the surrounding wood which is still intact to ensure the best possible result. After the filling and sealing of the holes, the gate can do its job for many years to come, provided that it has a coating of exterior-grade paint to protect it. You can count on us for fixing and replacing hardware parts, from hinges to tracks, and for straightening and stabilizing posts. Our company is readily available to install more advanced opener accessories and a new intercom system to boost the level of security further.
Residential Gate Installation Services
You want a new automatic gate which matches all of your needs and requirements? You can confidently hire us for the project. We will begin with helping you to select the ideal gate and the best residential gate opener. Our job is to give you unbiased information and professional advice and leave the decision to you. Our installation work involves securing the posts, hardware and electronics and adjusting all settings accurately. We will be ready right on time. In the end, you will have a smoothly working automatic gate.
If you have a problem with your gate or want a new unit, contact us, at Gate Repair Dallas, to receive an expert service.
Count on us for:

Gate Remote Program

Swing Gate Post Repair

Ornamental Iron Gates

Automatic Gate Troubleshooting