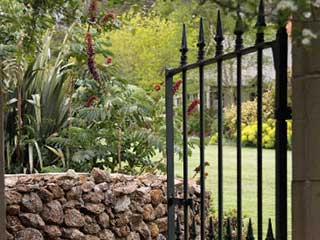 Swing gates are simple, beautiful and traditional. Here we highlight some of the most common problems that can develop to require professional gate repair. Here are three issues some owners will try and address alone, but would be much better handled by an experienced and well trained gate specialist.
Incorrect Post Alignment
All swing gates have a post that holds the frame of the gate upright. If this post is not secured properly, the weight of the frame can gradually pull it out of alignment and off balance. The more off balance it becomes the greater this effect can be. If the gate is based on uneven ground the frame can rub along the floor during its motion. A misaligned swing gate adjustment can re-balance the post and then it is possible to make it more stable so that the problem does not recur in future.
Inadequate Opener Specifications
A wide range of automatic gate openers are available to be installed onto all types and designs of swing gate. If you attach an opener that is not suitable for the dimensions of your gate, this can lead to significant issues. Professional swing gate repair services will be necessary if the frame of the gate touches the floor, the opener seems to struggle or the gate no longer opens or closes at all.
Hinge Degradation and Snapping
If your gates hinges are rusting or put under too much strain, eventually they will fail completely. They can snap, become dislodged or tighten to become too stiff. An expert gate specialist will be trained to operate welding equipment safely and efficiently. They will also know the exact type of hinge that would be most appropriate for your gate. Replacing a broken hinge with one that is not suitable will only lead to sooner failure in future.
So, if you happen to run into any of the problems mention in this post, know that our team of specialists is at your service. Don't take the risk of trying to fix it on your own – we'll have everything up and running quickly and safely before you know it!