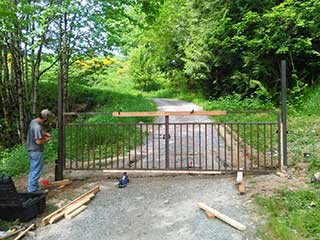 Is your gate giving you a hard time? Perhaps the opener is not working smoothly. Or the hinge has rusted. Or maybe the gate just isn't aligned. At Gate Repair Dallas we can solve these common gate problems and more in a timely manner. Our gate opener repair experts combine their skill and experience to deliver a service that won't disappoint you.
We Make Gate Repair Easy
We believe gate repairs shouldn't be expensive or cost you time. Having a gate that doesn't open or close properly or that is hard to use can be a nuisance. The same is true for an intercom system that keeps visitors waiting. Whether it's a driveway gate or a small entrance gate, we can solve the problem effectively.
Fast Gate Opener Repairs
Because even small gate problems can be annoying, we have made it our mission to solve them in a speedy manner. It can be very annoying to have to wait days or even weeks for the problem to be fixed — it only adds insult to the injury. When you choose us, you get an effective opener repair service whether you have a wood, iron, or custom gate, and you get it fast.
We Solve All Gate Problems
You can expect the same quality service from our technicians for hinge welding repairs or hinge replacements. Is your intercom not working? We can take care of that, too. Our gate repair technicians know all about simple gates and power gates, including driveway security gates. After identifying the problem, they provide you with the cheapest and most effective solution so you won't have to repair your gate twice.
Quick and Easy Gate Alignment
Is your gate not perfectly aligned? This can be an especially unpleasant problem with residential driveway gates or wooden gates. When gates are not perfectly aligned, they can be difficult to close. Sometimes this may even affect security. We know how unpleasant it can be to invest in beautiful wooden or wrought iron gates only to find that they don't close perfectly. Our gate alignment experts will gladly solve these problems.
Call Us Today We can help you with any gate problems you may have.
Call us today to get a quote.
We also offer:

Parking Garage Gates

Doorking Gate Intercoms

Elite Gate Opener

Driveway Gate Adjustment